For the past eight years SPOT has been bringing international delegates and guests from Germany, Switzerland, The Netherlands and Belgium to the festival on buses. Ellie Sellwood got on the bus at Hamburg to find out more about SPOT's German guests and what brings them back to Aarhus year on year.
By Ellie Sellwood, Jutland Station
In my experience, one of the best things about music festivals is the journey to the festival. However far you travel, be it from the train station to the middle of the field, or across the sea on a ferry or plane, the journey is a pilgrimage taken with fellow music fans and revellers and that makes it unlike any other experience in the world. It's a spontaneous, magical moment when people open up and share time, food and drinks with their fellow festival goers. My bus journey to SPOT was no exception.
This is the eighth year that SPOT has run buses to Aarhus for guests coming from Germany, Belgium and Switzerland. Before that, guests had to make their own way to the festival. Aarhus is better connected these days with the expansion of the airport, but it can still be a bit difficult to get there from mainland Europe. The bus is a great initiative to bring international music professionals, press and audience to the festival who then take their SPOT experiences back to their respective countries.
Frank Lenggenhager, Manager of Swiss PR Agency Lautstark told me that he's been coming to SPOT festival for five years, 'it used to be a small, very local festival with no international delegates but then they started to open it up and bring in delegates from other countries.' He told me that before the bus started running he would have to travel to Aarhus via Copenhagen. Last time he made the journey, the budget airline he booked for the crossing from Copenhagen to Aarhus went bust the day before his flight, so he had to pay for a last minute train ticket. The bus takes the stress out of the journey and means that more people from Switzerland, Germany and Belgium have the incentive and means to get to the festival.
'It used to be a small, very local festival with no international delegates but then they started to open it up and bring in delegates from other countries.' Frank Lenggenhager, Lautstark
The bus was expected to arrive in Hamburg at 3pm and as I turned up at the bus stop, a little late and flushed from rushing up the stairs, I was met by a couple of friendly faces. Many of them were faces from the Hamburg music scene and as I introduced myself, I met people who worked for Reeperbahn festival and PopUp who told me that they'd been to SPOT a couple of times before. I also met some people who were going to the festival for the first time. Among them were two competition winners, who'd won their tickets through a radio competition, and one girl, Arne, who said the chance to get to a festival in Denmark plus the bus ticket for only 99 Euros was too good of an opportunity to miss.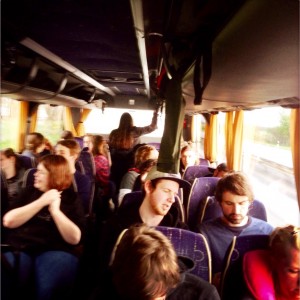 At the bus stop everyone was laughing, joking and telling stories in German. I've been living in Hamburg for about seven months now and learned German at school I could at least make out some of the jokes, the rest I got through body language and gestures, of which there were many. Failing that I could just watch the group and laugh at the appropriate points. We made up a very lively, energetic and animated group of people. One person likened the experience to that of waiting for a school trip because we were all waiting for the bus holding our weekend bags like excited children.
The bus was delayed for about an hour and a half but since we were having such a good time nobody really seemed to mind that much. By the time the bus arrived, people were sitting around in groups in the sunshine sipping beer.
As we got on the bus ready to set off, a fellow traveler told me that the bus had been on the road since 9am as it had traveled from Cologne to Hamburg via Münster. She seemed pretty upbeat about it all though, as many festival goers know anything can happen when you travel to a festival so you just have to sit back and enjoy the ride.
Once the journey was underway the driver gave a couple of funny announcements over the microphone. He told the passengers that we were approximately '3000km to Munich'. I thought to myself, I really hope we're not going to Munich but given the amount of laughter I thought it safe to assume that this was a joke. On our way out of Hamburg, the driver, pretending to be a tour guide, said 'and on the left here, you can see a yacht in someone's garden', which made everyone laugh again. It really summed up the mood of the journey, everyone was excited about the weekend and enjoying each other's company.
'And on the left here, you can see a yacht in someone's garden.' SPOT bus driver
It's only when you sit on the bus surrounded by international music professionals and press that you realise quite how far SPOT's appeal has spread. Everyone I spoke to on the bus talked about SPOT with a fondness, describing it as a special kind of festival that they enjoy returning to again and again.
Frank told me that he's been coming since the organisers first started inviting international delegates and so the trip to SPOT every year is a chance to meet up with old friends as well as fellow professionals. He told me that he's mostly contacted by Danish record labels and managers and asked to give advice about certain bands, advising them as to whether they could make it in the Swiss market. So I made sure to compare notes with him about which bands or artists he was going to see.
Following in the trend of recent years, this year's festival is a unique combination of a two day conference about the European music industry and a music and film festival that showcases up and coming talent. As such, this festival really relies on a strong presence of international delegates to contribute to discussions, forge strong networks and promote Danish talent within an international context. It's refreshing that this festival also seeks to confront some of the challenges that the music industry has come up against in recent years. This year's theme for the conference is streaming.
Equally important though is making sure that experts, professionals and music lovers are all able to congregate in Aarhus for the days of the festival, which is where the bus comes in. Operated by Factory 92, the SPOT bus enables both SPOT festival and Aarhus to become a hub of all important networking, discussions and love for music and as the guests return to their respective countries SPOT is able to create a ripple of new ideas and fresh talent which spreads across Europe.
– – – – – – – –
Ellie Sellwood is from the UK, currently based in Hamburg. She is a former editor and now a visiting journalist for Jutland Station. You can follow her on Twitter @EllieSellwood and see her portfolio here.
Photos: Ellie Sellwood (top – outside  bus) and Frank Lenggenhager (during trip to Aarhus)