Danish five-piece Coco Moon played to a packed out Radar on Saturday night premiering songs from their upcoming new album. We met them to find out what to expect.
By Ellie Sellwood, Jutland Station
Entering the room I found it thronged with people and thick with the band's atmospheric music punctuated by clear, sweet vocals from lead vocalist Nana Odderskær. Standing beside the lighting and sound desk I could see people nodding and bouncing, some eyes closed to the music. The music streaming from the stage seemed to have a hypnotic quality – a treat for both the ears and the imagination.
It sounds at once both futuristic and classic, reminiscent of Portishead and at times Björk. It is all-encompassing, enveloping the audience in a sound universe made up of strong, heavy bass that pulses through you, along with tiny pin pricks of tingling sounds. It's music to get lost in, with Nana as our guide, our leading hand through the unknown.
Coco Moon is a five-piece band from Denmark. Lead vocalist Nana Odderskær, guitarist Jens Hyldgaard, keyboardist Daniel Skjødt, bassist Niels Hyldgaard, and drummer Jens Nowack have spent the best part of fifteen years playing together.
They released the self-titled debut album in 2010 and toured Denmark for the Autumn of 2010 and Spring of 2011.The debut attracted rave reviews and had a solid single rotation on Danish radio channel P3. They've since been out of the spotlight working on their second album but came back to SPOT this year armed with their hotly-anticipated new material.
I met with brothers Jens and Niels Hyldgaard and Daniel Skjødt to chat about their music. For members of a rock band they were relatively softly spoken and down-to-earth, talking with honest modesty about their music.
They explained that the band's experimental yet structured sound comes from the way they work together to create music.
"We work really intuitively and we work really closely together to co-create the music. It's not like there is one songwriter in the band," Jens explains.
"We work really intuitively and we work really closely together to co-create the music. It's not like there's one songwriter in the band" Jens Hyldgaard, bassist.
When asked about the band's influences, Jens laughed and said "well that's a tricky question for our band." The group draw inspiration from different places so "when we co-create and write music together it's naturally influenced by Niels who's listening to Motörhead and me who's listening to Rolling Stones. So we don't have any specific albums or artists that we listen to and base our music on, it's all very much based on intuition, playing together and the moment we're in."
"We think about the here and now and create soundscapes or a sound universe, then suddenly there's a development, maybe it's a verse or something. Because we work so closely together, for like 15 years now, we're good at that now because you really need to understand each other and how to work with the soundscapes without losing the variety."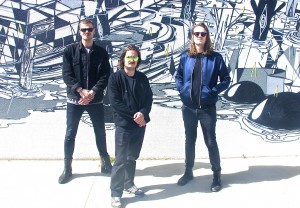 "It's unique for us because we know each other so well," says Daniel.
Sound universe or sound scape is a really fitting way to describe their music, it is music that you can immerse yourself in and explore as it changes like the light, from shadows to brightness, from depth to height. It is unpredictable yet structured enough to help you navigate the ever shifting complex sound.
Their song 'On a Line' starts with a marching beat, that develops with Nana's singing and added strums from the bass, as it goes on you become swept up in a dream world with swirling sounds and echoed vocals before it returns to the familiar marching beat.
It is the kind of song that would really benefit from a live digital aspect, with screens to show their psychedelic and surrealist video which guides the song through fractured landscapes and melting bodies. Perhaps next year at SPOT they could facilitate this, it would really add to the audio-visual experience.
According to Jens, Niels and Daniel, it's been a long journey to the second album. After writing nearly half an album back in 2011/12 Jens says "we could easily have released the record in 2012 or 13 but it would not have been a good record." They scrapped all the material and started over because "we realised that we weren't that good at writing songs so we had to start over, but then suddenly after writing something like 80 sketches, something massive happened."
Jens told me that "the first album was really alternative pop, it was really tight, the whole studio process was different, we recorded everything separately like the drums, that was recorded with the hi-hat and snare drum by itself and then in another session he recorded the cymbal and for us that was kind of strange."
"We realised that we weren't that good at writing songs so we had to start over, but then suddenly after writing something like 80 sketches, something massive happened." Jens
This time round, he says "our producers set us up in a studio where we could record everything live, a simple way of recording, but it was great because every time we went into the control room our recordings sounded like music, not just a recording of a hi hat or something which is so boring and not creative at all."
As a result, all three said they are incredibly proud of the new album.
"We're happy because we did it our own way," Daniel says.
So what do we have to look forward to with the new stuff? Well, Jens, Niels and Daniel all agreed that this album is a lot darker than the previous one.
"I think it was our experience in that period and we got influenced by different things and styles. We got a lot more into the whole jamming concept where we'd just go for it and it's a lot more about storytelling now," Jens says.
Niels adds: "Yeah, a lot of things happened in each of our lives that are reflected in the record, in the lyrics, tones and sounds also Nana decided to change some things in her life and move on, so for her it's been a bit of a transformation and she's found a way to express more extreme emotions I think, much more honest and direct."
The new album features the song kVp which is Niels describes as "very explosive, like an energy outburst, it's not very dynamic since we're up here the whole time, but it's like the peak."
The name stands for Kilo Volt Peak, a term borrowed from Niels' line of work, radiography. It starts with a classic rock riff and develops into a high intensity, full-bodied song, filled with mechanical sounds and a strong drum beat.
My only criticism of their live performance is that there was very little audience interaction and their set came to an abrupt end with all band members leaving the stage before I had registered that they had finished. That being said, perhaps that was part of the plan, to let the music do the talking. I feel that their set would really have benefited from some explanations between songs. Some of the songs were real crowd-pleasers and others not so much, so some kind of commentary would have really helped for the undecided audience members.
I would like to see them at their own show where they are not hemmed in by a strict time limit but I strongly recommend getting hold of the new album which will be released this year.
Photo – Top: Singer Nana Odderskær sways into the mic. Photo: Shulun Huang.
Photo – middle: From right to left- Jens Hyldgaard, Daniel Skjødt and Niels Hyldgaard. Photo by Gabriele Dellisanti
– –
Ellie Sellwood is from the UK, currently based in Hamburg. She is a former editor and now a visiting journalist for Jutland Station. You can follow her on Twitter @EllieSellwood and see her portfolio here.